Kona coffee had its ups and downs since its cultivation started in the early 19th century. Surprisingly many of the current problems are not new, we noticed. By digging through some old newspapers we found that e.g. the problem of 'fake Kona coffee', or 'quality control' is as old as the coffee culture of Hawaii. Have fun reading. Don't get discouraged in your quest for the perfect cup of joe. As long as you are asking for quality we are doing our best to provide it!
ABOUT KONA COFFEE FAME:
"Kona Coffee is growing in favor combining the flavor of Java with greater strength."
From a San Francisco newspaper ad for the arrival of the cargo on the Hawaiian barque MATTIE MACLEAY, 1866

"Fabulous also is Kona coffee, strong but not bitter. Drink it straight, not blended as on the mainland. Drink all you want at bedtime. Strangely, you still can sleep. The coffee trees thrive in lava, rich in minerals, which explains the flavor."
Chicago Tribune, 1961
"The call for Kona coffee, which is said to be inferior to none in the world, is much greater than for any other kind, and it is a thousand pities, that beautiful district does not send more to market."
The Sydney Morning Herald, 1854
"This Kona coffee is so fine that I mailed ten pounds to my family in Connecticut by parcel post, which cost, including postage (12 cents a pound, packages not to exceed 11 pounds each), only $4.20."
Letter from Hawaii, June 1895
"The Kona coffee, raised on the uplands of the Island of Hawaii is superior to any other coffee raised. I think that I can safely say this. The flavor is truly superb. One has never tasted coffee who has not drunk Kona coffee."
Hon. Henry E. Cooper, Minister of Foreign Affairs of the Hawaiian Republic, 1896
"Every coffee grower in Kona is very proud of his coffee. This pride has led each grower to place his own stamp on his product. This friendly rivalry between the planters is bound to prove beneficial to the district."
The Hawaiian Star Jan 29, 1897
"President Teddy Roosevelt drinks Kona coffee, says Territorial Secretary A.L.C. Atkinson."
Pacific Commercial Advertiser, Honolulu April 4, 1905
ABOUT BEING CAREFUL WHEN BUYING KONA COFFEE:
"It will pay your (Kona) coffee planters to send samples abroad but the samples must be of the very best coffee you have. Further, they should accompany each sample some account of where the coffee was raised, the elevation, the climatic conditions and the amount of cultivation bestowed." Mr. J. R. Shapliegh, Shapleigh Coffee Company, Boston January 7, 1896
"A class of faithful and earnest planters are straining every nerve in capital and energy, in order to make a success of coffee-growing and place a prime article upon the market these people should be rewarded for their efforts. But there is another class of "so-called" planters, who, through lack of knowledge, or lack of facilities for handling the crop, turn a soft, pale, discolored, insipid, unripe berry upon the market as 'Kona coffee'. And what is the result? The whole coffee industry of the islands suffers in consequence.
"China once controlled the tea markets of the world, because she produced the finest qualities of tea. Today she has lost her prestige and millions of dollars, in competition with other tea-producing countries, simply because she lacked systematic grading and inspection of the teas exported, thus permitting an inferior product to flood the markets as 'pure China tea,' and thereby injuring the sale of that which was truly genuine.
"All lovers of the refreshing cup will come to know the genuine Kona coffee by its peculiar subdued, delicate fragrance, and exhilerating qualities, and will demand it as essential to their comfort and refreshment." HAWAIIAN GAZETTE August 6th, 1897
"When it is your time to buy coffee do you ask for Kona coffee? Do you look at the outer seal so you can know if what you are getting is Hawaiian coffee or adulterated coffee? We ask you to do so the next time you go buy. Why take the coffee that was adulterated? Why not invest in the land by buying Hawaiian coffee? Help Kona's fine people by buying their coffee." McChesney Coffee Co. advertising,1890
"In a recent letter from one of the largest dealers in coffee on the west coast the need of a Government inspector was strongly emphasized. The writer stated that there was on the market at San Francisco a great quantity of coffee sold under the head of Kona, that was of an inferior grade and had been improperly cured and dried. The tendency was to weaken the price in the market and unless something was done and that shortly, that Kona coffee as generally known there, would not taste anything like the original article here, or bring the price it should. He recommended strongly that the Government to take hold of the matter to appoint an inspector, whose sole duty shall be to test every sort of coffee before shipment and see that it comes up to a certain standard. In this way Hawaiian coffee would become known and its worth realized and we could get the highest prices for our coffee". From "GREAT NEED OF COFFEE INSPECTION", HAWAIIAN GAZETTE Dec, 23rd 1898
"There are people in the States who want good coffee (Hawaiian Kona preferred) and who will pay for it. The large body of consumers are now forced to use what Professor Koebele designates as 'soup.'
The entire question of the marketing of Hawaiian coffee and the maintenance of its deserved prestige has been gone into with the greatest care by Professor Koebele and by others interested as well, and the verdict is that there must be established an almost if not clearly direct connection between the consumers who want real coffee and who are willing to pay for it and the men who produce the genuine article here—an article that can hold its own with the best coffee the world has ever known." HAWAIIAN GAZETTE March 3rd, 1898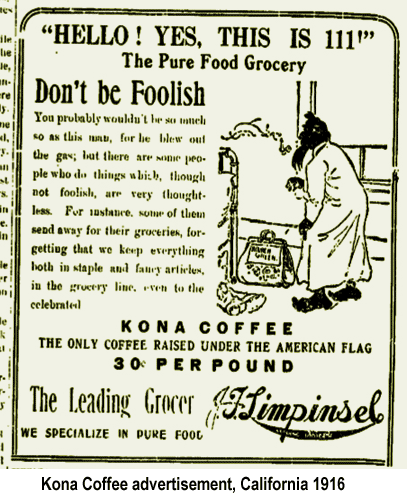 ABOUT LIFE OF A KONA COFFEE FARMER:
"The class of lands suitable for coffee culture, that is, moist, cool, free from driving winds and fertile, is of great extent on the large Island of Hawaii. Kona coffee, raised on new lava, has the finest flavor of any in the world. It seems quite safe to say that coffee will always be the export product most available for the independent small farmer in Hawaii. With from three to five acres most of the picking and weeding can be done by the wife and children of the settler. Nowhere else can sooner or more easily be created a home charming outside with trees and flowers or pleasant within with apartments open to the balmy air. On the coffee uplands the nights are invariably cool often needing stove warmth in the evening.
"
F
rom "When Coffee Will be King," HAWAIIAN GAZETTE November 13th, 1896
"I have found that there are two kinds of this class (of coffee farmers) in these islands. First— those who possess the actual knowledge, acquired by many years of hard and active toil in coffee planting, and who can make their representations good on investigation. Second—Those who profess to know all about it, and talk as though they had been born and brought up under a coffee bush; but who in all probability, never saw a coffee tree before their arrival in these islands.
C
has. D. Miller, Kalahiki, Hookena, Hawaii April, 26 1898
"The man who thinks he can run a coffee plantation without any practical experience, and without either native or Asiatic labor, or with strictly Caucasian help, is building his house on a foundation of sand."
Louis T. GRANT. Honolulu, July 17, 1895

ABOUT FAKE KONA COFFEE AND MUCH NEEDED PROTECTION:

"There are inquiries from people who have heard of Kona coffee and in most cases they get Guatemalan coffee and do not call for it again. People who pay fifty cents a pound for coffee do so because they want to feel that they are getting a good article; whether they get it or not, is for them to decide; the average retailer does not give the matter much thought after the sale is made. I know of a firm in San Francisco selling alleged Kona coffee at 30 cents a pound when as a matter of fact they never had a pound of Kona coffee in their store. If that firm sold the genuine article there would be a greater demand for Kona coffee than there is."
'Necessity for Coffee Planters Association', HAWAIIAN GAZETTE John Q. Waibel June 23, 1896

"We believe that coffee is the only agricultural product of the United States which is not protected by an adequate duty. Six years ago Kona coffee found a ready market at 20 cents per pound; today today it is a drug on the market at 10 cents per pound. As a result 90% of the plantations then established have been abandoned."
HAWAIIAN GAZETTE May 14th, 1901

"Hawaii has the best natural coffee lands in the world, declares Prof. O. W. Barrett of the agricultural department of the University of Hawaii, who has just completed a survey of coffee plantations. He says that in climate, soil and lack of insect pests Hawaiian coffee has advantages possessed by no other coffee-growing district known. In spite of the lack of a protective tariff Hawaiian Kona Coffee now sells at a higher price on the American market than any other coffee."
CHARLESTON DAILY MAIL, September 24th, 1929

"Our house, J.C. Nobmann of San Francisco, handles all the Hawaiian coffee that it is possible to buy, but we have never been able to get enough of it. Just take the case of the Californian wine growers. 20 odd years ago the New York man who offered Californian wine to his guests was given the cold shoulder because imported wines were given the preference. But the growers were not discouraged; they knew that inferior wines made their way to market just as inferior coffees gets to San Francisco and is sold as 'KONA'. Inspectors were appointed and today only the best are shipped."
From HAWAIIAN GAZETTE January 1st, 1897
"In order to prevent our [coffee] industry from dying we are now trying to merge the [Kona coffee] co-ops...[and] are planning to remove their coffee from the world market, no longer making it available as a [Kona] blend. By doing this and marketing our entire product for sale as a straight Kona coffee, we will be able to command a higher price," said Take Kudo, 47, general manager of Sunset Coffee Co-Op.
LOS ANGELES TIMES, Dec. 16th, 1969